You might have heard about the Chicago Manual of Style and AP Styles guides, probably touched them and even explored them! But that's not for sure.
The majority of big players have in-house style guides establishing the standards for clear and consistent communication across teams and channels.
One thing is to build such a style guide, another one is to always stick to it. Frankly, would you open and look it through every time you need to use an abbreviation or add a correct date format?
Very likely no, then yes. To an end, when developing custom communication systems, many businesses rely on off-the-shelf proofreading solutions with built-in style guides or custom rules. And here, we at WebSpellChecker can provide a helping hand. Read further to discover how beneficial spelling and grammar checkers with style guides are.
WProofreader SDK for developers
Available as a cloud or on-premise solution. Get free trial.
Explore more
Style guides, custom rules or error mappings
The most famous Style Guide, as far as we know, is dated back to 1891. The University of Chicago Press established The Chicago Manual of Style. Over time, the guide has evolved and adapted to reflect changes in language usage, technology, and publishing practices, maintaining its relevance as a widely used reference for writers and editors.
Later, in 1953, another good book — AP Stylebook — was first publicly released by Lorenz Press. Back then, it served as a guide for journalists and news organizations. It provided guidelines for writing and editing news articles, ensuring consistency and standardization in news reporting.
While these influential style guides are allowed for wider accessibility, companies build their own sets of rules for internal usage.
We at WebSpellChecker are not an exception and also have a Writing Style Guide, so that our team make sure they never, God forbid, use the Oxford comma in client emails 😂 Just joking.
From The Economist and New Yorker to Mailchimp and Atlassian, big players invest huge resources in building corporate style guides. Alongside standards for visual and verbal communications that cover design principles, typography, color usage, iconography, normally, these handbooks include internal requirements for spelling, grammar and style.
For example, Mailchimp Content Style Guide has a dedicated section called Grammar and Mechanics covering the basics of writing abbreviations, capitalized terms, numbers, contractions, etc. Apple Style Guide has a very extended Style and usage A-Z part with tons of rules for content, UI/UX writing, product naming, etc.
We at WebSpellChecker are not an exception and also have a Writing Style Guide, so that our team make sure they never, God forbid, use the Oxford comma in client emails 😂 Just joking.
So, you see, everyone takes great care about communication and strives to make it as smooth as butter.
We usually get many client requests related to style guide functionality; clientele needs a custom style guide builder (i.e. custom rules), a tool to help users stay on brand message, etc.
Basically, the feature is similar and grounded upon spelling/grammar/style rules which have input-output-message in their structure.
So, when the user types, for instance, webspellchecker, we suggest replacing this word with WebSpellChecker and explaining the reason in the message "Please use the correct company name 'WebSpellChecker". Just because we have added this rule to the corporate Style guide.
For the purpose of this article, we compared a few text checkers with style guides by different criteria: pricing, functionality, requirements, import/export features, language support, limitations, support docs, etc.

Grammarly
Grammarly's enterprise users deploy Style guides to make sure their employees spell company and client names correctly, use brand language properly, and avoid jargon customers don't understand. The feature is available within Grammarly Business Pricing. Users can activate/deactivate the style guide, tweak custom rules (input, output, message), view statistics of accepted/ignored cases, enable/disable custom visibility settings. For marking custom style issues, Grammarly uses a separate style check.
LanguageTool
LanguageTool's Style Guide is a separate type check feature which can be beneficial to businesses for:
establishing clear and appropriate standards when communicating with clients and customers.
ensuring consistency by suggesting different words and phrases that better represent their company's brand.
helping teams remain as professional as possible across all platforms.
It is also based on rules: you can manually add rules or import them. The feature is available for all supported languages.
Sapling AI
Sapling AI feature is called 'Custom errors/custom mapping' and is designed to complement a company's style guide or preferences that go beyond grammatical correctness. Sapling's custom errors feature can be used to enforce brand guidelines or a specific writing style for businesses and teams. Adding terms is also possible via CSV uploads.
Linguix
Linguix's style guide is to ensure all client corporate communications are clear, polite, and inclusive. Just like others, Linguix offers a separate type check (purple underline) for marking custom style issues. And yes, this feature is inside the Team plan, so don't expect you can test it for free. By the way, some solutions are wise enough and will let you create Style guide or custom, but they will never let you try them.
Writer.com
Writer.com is probably the most sophisticated provider which has gone far beyond typical product naming and has called its feature Terms. Basically, Terms are offered as a part of the Style Guide functionality and at Writer.com it looks really fabulous. While the majority of text checkers follow a basic input-output-message formula, Writer.com has several groups of terms defining their status: approved, don't use and pending. Plus, they offer case sensitivity, visibility, tags, examples, settings, etc.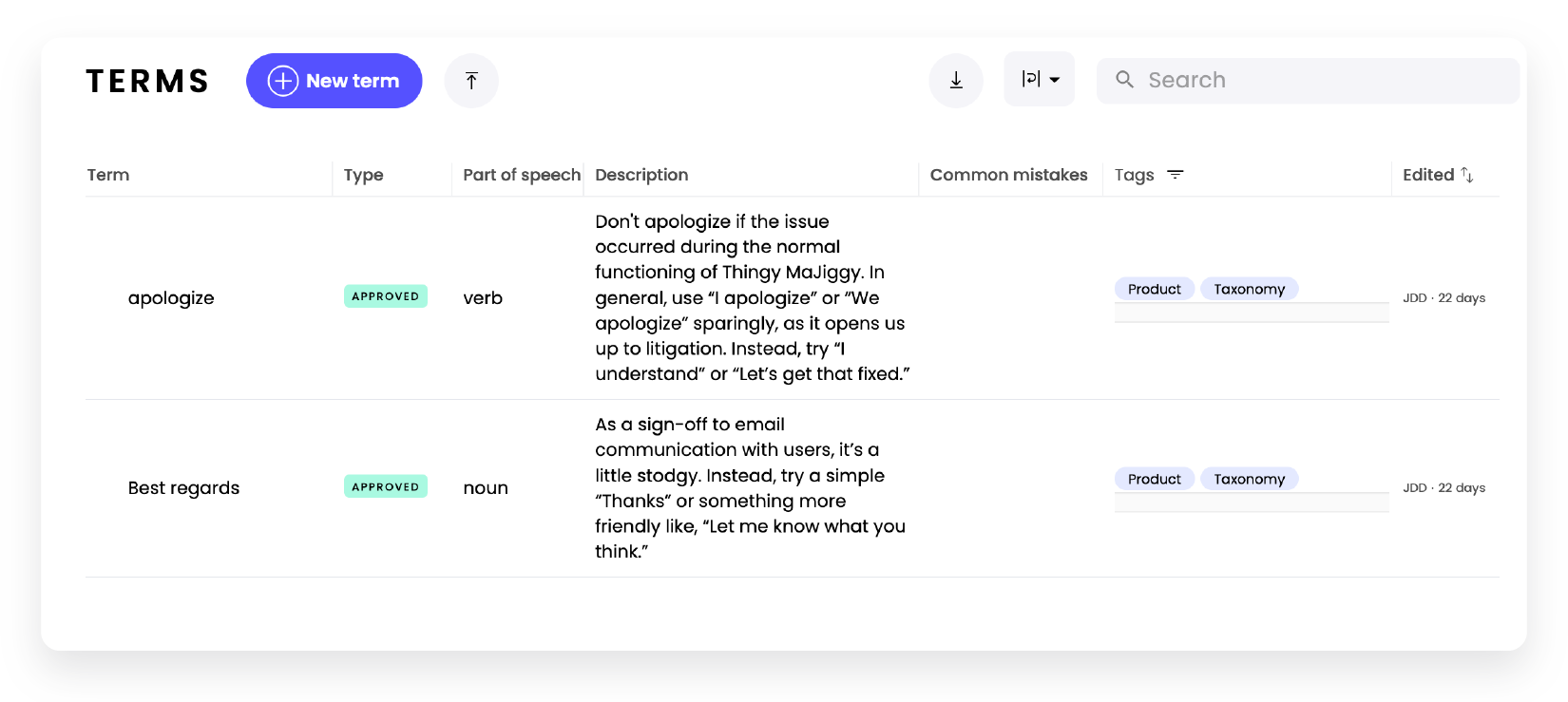 Writer.com has selected blue underlines for this type of check. However, you can't feel and like it freely since the feature is hidden in the Team/Enterprise plans.
ProWritingAid
Similarly to Writer.com, ProWritingAid developed an extensive functionality that is called Style Guides and that is available for the holders of Premium subscriptions. It does resemble the real style guides and has many configurable options such as readability, tone of voice, inclusive language, and, certainly, custom rules. Possible limitations are that the feature is available only in English and English dialects. And there is no uploading option, which is not comfy though.
Find more details in the Style guide comparison table. For extra information, please contact the providers directly.
Text checker
WProofreader SDK
WProofreader Business
Grammarly
Language Tool
Sapling AI
Linguix
Writer.com
ProWritingAid
Feature name
Style guide with custom rules
Style guide
Style guide
Custom errors/custom mapping
Style guide
Style guide with Terms feature(alike custom rules)
Style Guides
Price
Contact us
$15.00 / member / month
$5.53 / 2 users/ month
Contact
$10 / member / month
Starting from $18 / user / month
$10/user/month
Functionality
– default, non-inclusive language and profanity checker (only for English)
– option to create custom rules
– as of now, no separate marking for rules. Coming soon — yellow underline for style issues
– activate/deactivate style guide- custom rules
– statistics of accepted/ ignored cases
– custom visibility settings- a separate style check
– a separate type check (purple underline)
Custom error filters
A separate type check
– Style guide is a separate feature w/ Terms aka custom rules
– Terms are divided into several groups: approved, don't use and pending
– case sensitive, visibility, tags, examples, etc
– a separate type check
Style Guides is a separate feature available within the Premium plan
Requirements
– сonstraints on the special characters, input, output and message size
– only admins can create and edit custom rules
Explanation of the rule — 400 characters
– Phrase — 100 ch
– 5 replacements
– Full description — 200 ch


Format requirements
N/A
– Writer.com templates (CSV | XLSX)
– UTF-8 encoding
– max file size — 5 MB
– no limitations regarding supported symbols and text size
No uploading feature
Import/export
Import rules from CSV files
Import rules from CSV files
Import rules from CSV files
Import rules from CSV files
N/A
Import rules from CSV and XLSX files
No limits on symbols and text size
Language support
25 languages available by default
English
N/A
14 default languages
Only English
Only English
Only English and dialects
Limitations
Style guide feature is now available for on-premise clients. Default non-inclusive language and profanity checker is available for cloud and on-premise clients.
N/A
N/A
N/A
N/A
Only admins can create and edit Style Guide.
N/A
Support/docs
Contact support team
Quick tour
Text hints, user instructions
Support center
Content on the official website
Text instructions and user manuals on the official website
Blog post
Comparing text checkers with Style guide functionality
WProofreader Style guide with custom rules for biased and profanity language check
We do not graze the rear, and have recently developed and implemented the functionality of Style guide with custom rules.

It allows on-premise users to add custom linguistic rules and patterns for smooth internal and external interactions, and also use the default lists for non-inclusive and profanity writing in English. The latter is accessible for users of both cloud and on-premise versions.
This new feature is enabled for all WebSpellChecker products — WProofreader SDK, WProofreader Business, SCAYT plugin for CKEditor 4, WProofreader for WordPress, etc. Style guide with custom rules is available for 25 default languages.
As for now, the built-in custom rules or non-inclusive and profanity language check include terms from three categories: gendered and ableist language, race and ethnicity insults, strong swear words. We've got two cool pieces explaining the basics of non-inclusive and profanity language.
The WebSpellChecker on-premise clients with access to the internal software configuration can disable a particular grammar rule. For importing wordlists, we have certain limitations related to the maximum file size, number of files, rule length, etc.
Also, there are API parameters allowing devs to turn off the style check completely in the WProofreader core (WProofreader for RTEs, plugin for CKEditor 5) released in v5.29.0. UI settings for users were introduced in v5.29.1. For SCAYT plugin for CKEditor 4, this option is unavailable.
Currently, we're working on adding the same biased and profanity language check functionality for German, French and Spanish. In the future, users will be able to tweak it right from the UI.

Wrapping up
So there you have it! This article gives you the lowdown on spelling and grammar checkers with style guides.
We emphasize the importance of style guides functionality for clear and consistent business communication. Even if you don't have the Chicago Manual of Style at your work place, custom rules for spelling, grammar and punctuation may be of a lot of help.
We've compared popular providers like WProofreader with Style guides functionality and can state that they all have a basic toolkit allowing users add/import rules of different kinds. There are exceptions like Writer.com and ProWritingAid, which offer extended style guides specifically intended for writers and content creators.
WProofreader offers Style guide with custom rules for cloud and on-premise clientele. Cloud users can deploy predefined lists of rules for non-inclusive and profanity language checking. The holders of on-premise license can build their own rules.
We hope now you can confidently choose the right tool to supercharge your team writing. Happy writing!