Disclaimer: this article is not written by ChatGPT or other AI-based tools for content generation. Okay, maybe, partially 😀
Since the moment of ChatGPT-3.5 and -4 releases, there have been plenty of speculations like "Can it replace…?". We'll also support this trend and ask: "Can ChatGPT replace text checkers for proofreading?" Let's see what the AI says about itself.
WebSpellChecker: Do you think you can replace text checkers for proofreading?
You see it? No need to post tons of text to prove the idea of ChatGPT being a supplementary tool, not an alternative. Just ask it directly and get the answer. But, we've tested both ChatGPT-3.5 and -4 proofreading features, and we have things to say.
Let's go.
Polishing a business email: grammar checkers vs ChatGPT
Ask directly ChatGPT if it can proofread and edit texts. It will answer something like:
"Yes, I can proofread and edit text. As an AI language model, I am programmed to identify and correct errors in grammar, punctuation, spelling, and syntax."
And herein, it will mention as well:
"However, please note that my proofreading and editing capabilities may not be as refined as those of a human editor, and I may occasionally make mistakes or miss certain errors."
So, it admits that it's not ideal and hardly ever can compete with human editors. But what about other AI text checkers like Grammarly, LanguageTool or Sapling AI? Can ChatGPT compete with them?
Let's take a plain business email text and proofread it with Chat GPT.
Demo text with errors:
I would like to remember everyone that Mr. Lewis, a prespective client, will be visiting the office next Tuesday. He'll be in the office since 9 a.m. until about noon. I will appreciate it if everyone could dress in business professional attire during his visit. We want to make sure everyone make a good impression.
Here we have several issues:
Incorrect word choice remember which should be replaced with remind
Spelling mistake perspective which should be replaced with prospective
Grammar issue since instead of for
Grammar/style issue I will appreciate which is better to be replaced with I would appreciate
Grammar error make instead of makes
Here's how Chat GPT-3.5 and -4 coped with this task.
ChatGPT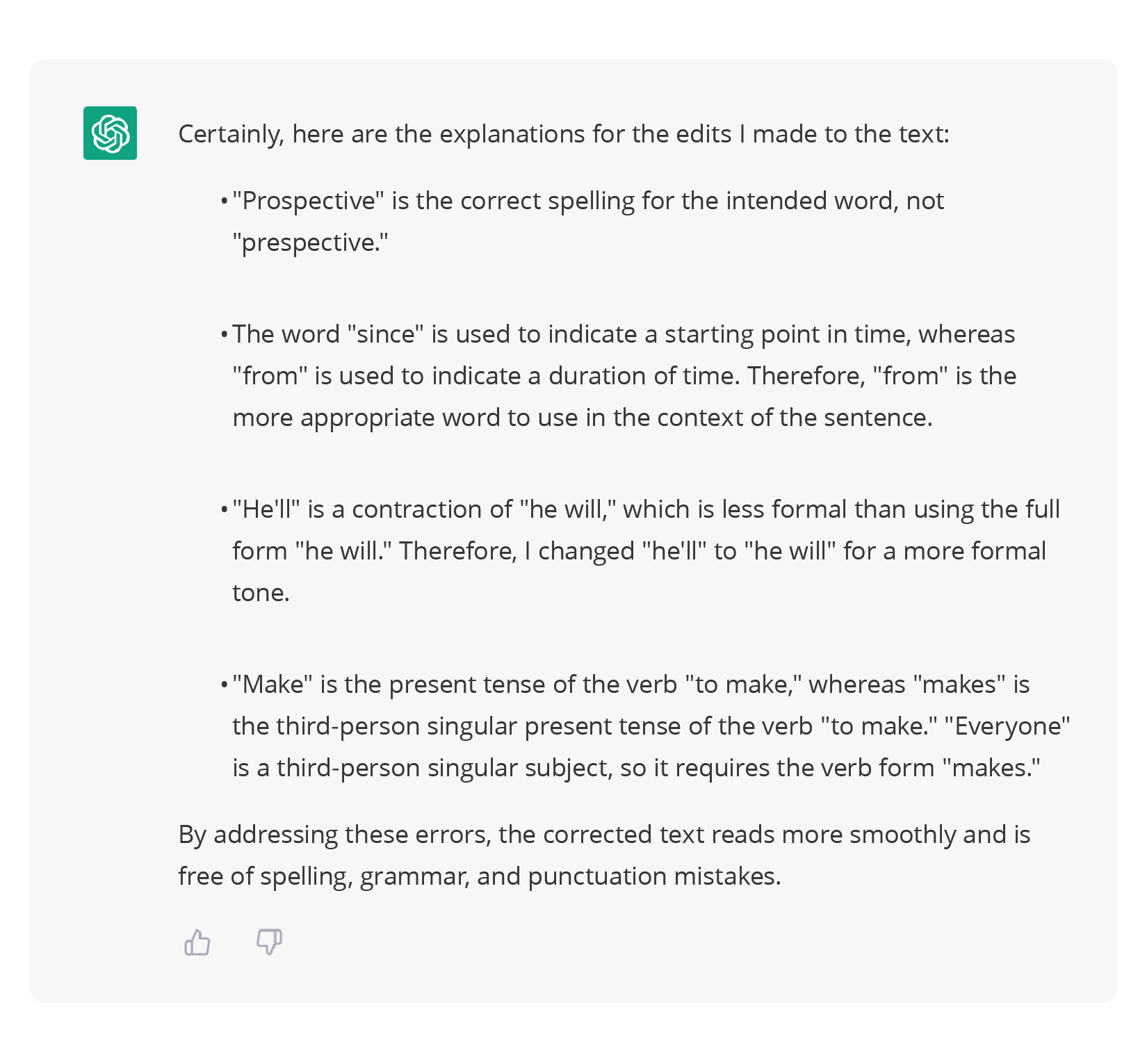 ChatGPT-3.5 showed an average result. It didn't detect all the issues: remember — remind; I will — I would were set aside. However, it made other changes to improve the style, like He'll — He will.
And quite the opposite, ChatGPT-4 demonstrated a great result with 100% issue detection.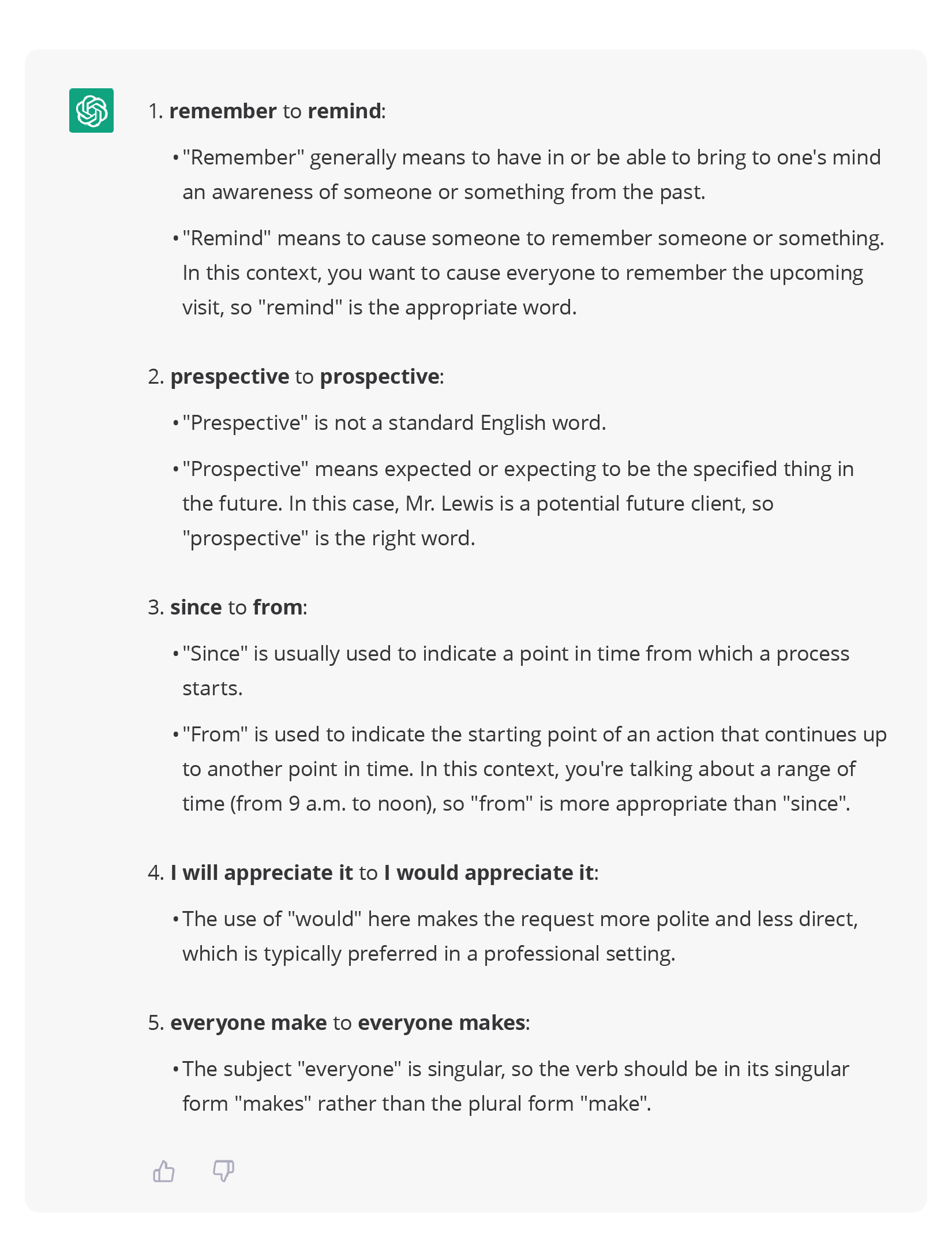 Besides, ChatGPT says that it's capable of paraphrasing. Wow, that's a premium feature offered by the majority of sentence checkers!
Let's look at other text versions of our email ChatGPT can create. A good result, though.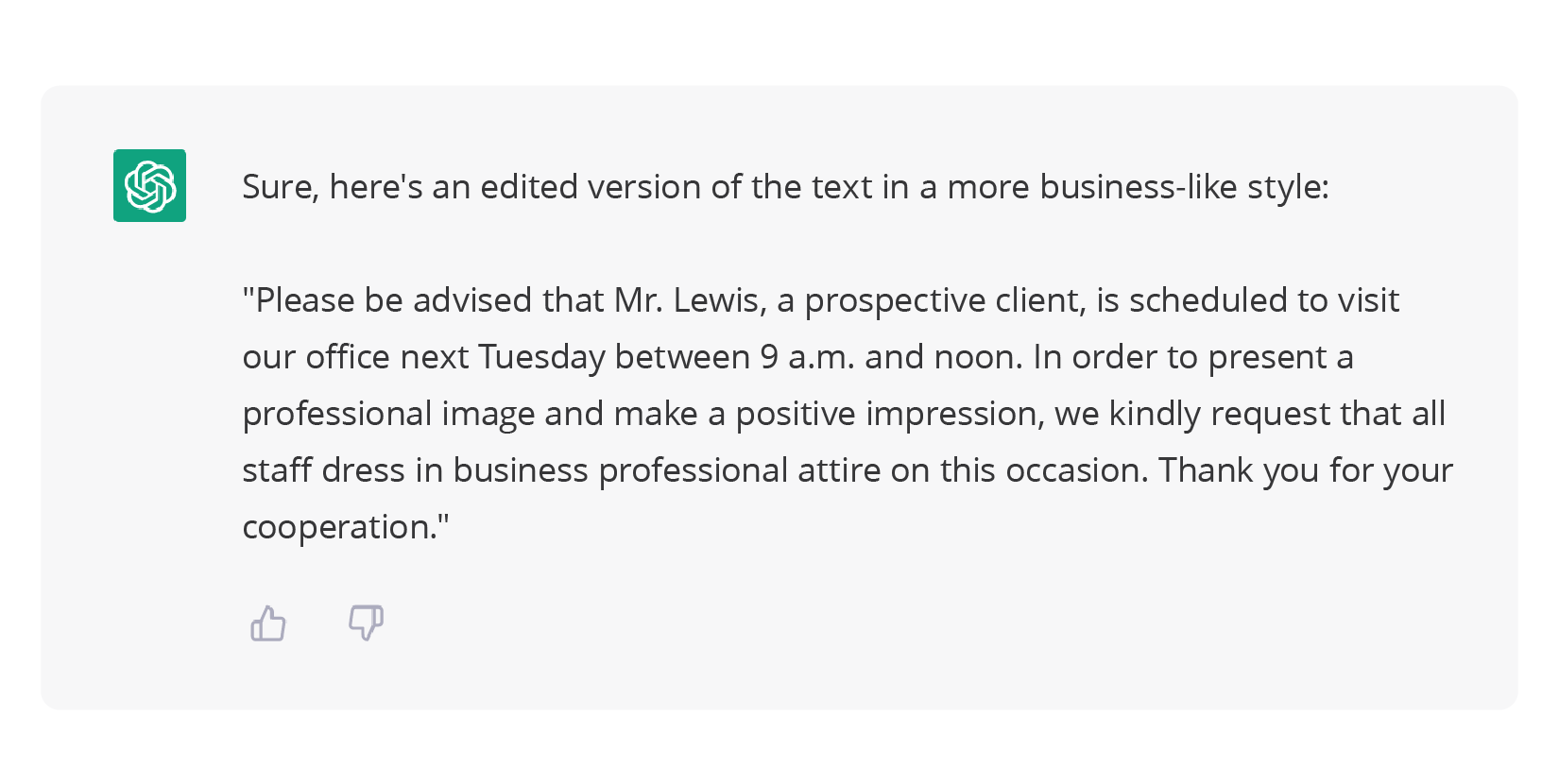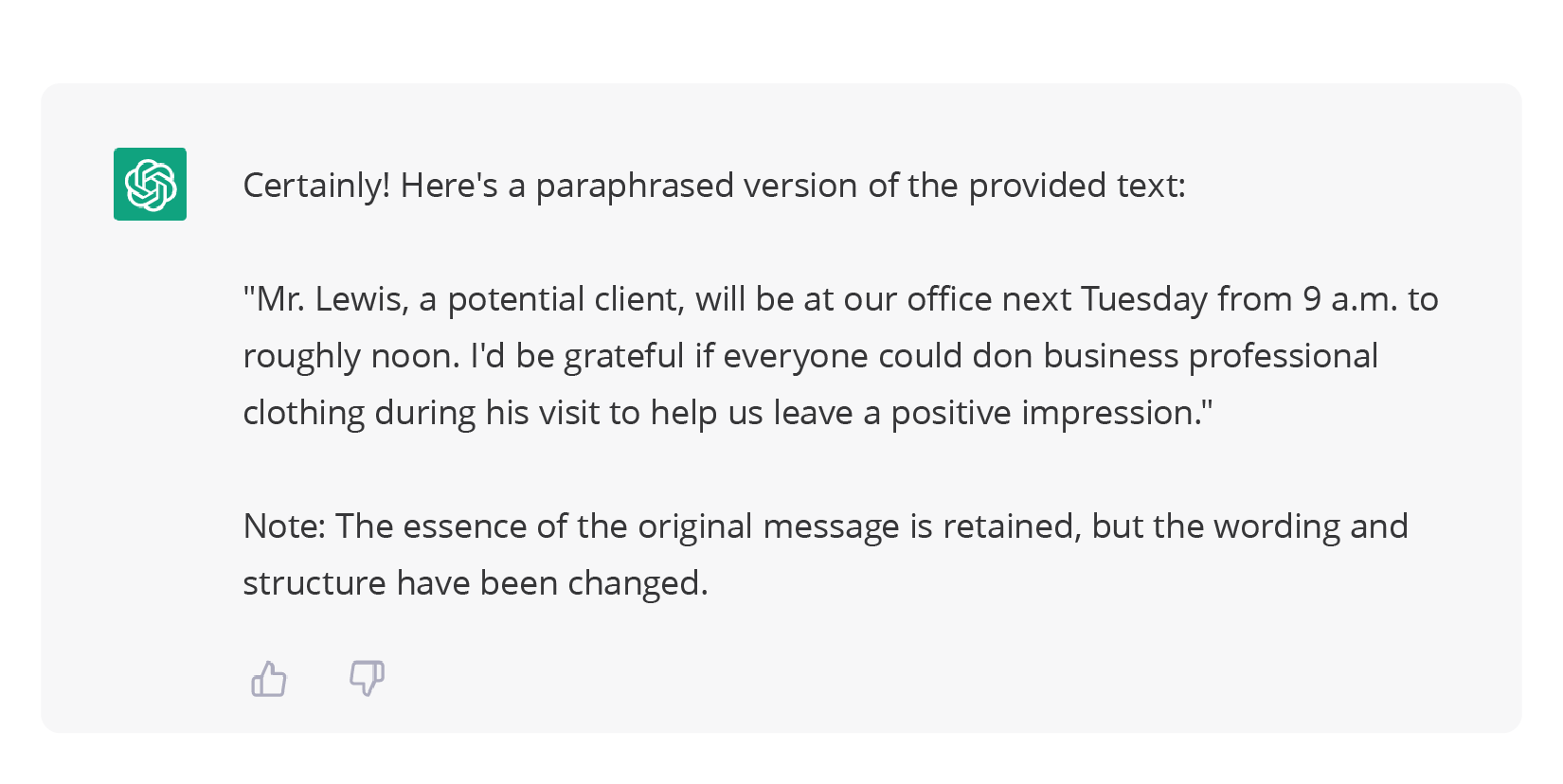 And now old good text checkers. Show us what you can do with this sloppy email.
WProofreader

WProofreader, your score is 100%. All types of mistakes are caught by its sophisticated AI model and no extra updates are suggested.
Grammarly

Grammarly didn't detect will—would, remember—remind. Probably, it has some problems with context-based issues.
By the way, recently Grammarly has announced a new suite of generative AI capabilities — GrammarlyGO. Chances are Grammarly has been working on this for long and the release of ChatGPT just speeded them up. Or, maybe they just deployed the premium capabilities of ChatGPT? Well, Grammarly refuses this by saying:
"At Grammarly, we combine the latest in AI, ML, and NLP technologies. Today, we're leveraging GPT-3 along with proprietary AI and ML models.
Nevertheless, as Grammarly says a new tool is capable of writing prompts, rewriting, generating ideas".
No one will ever know the stack the new feature is based on. However, it's really intriguing to compare it with ChatGPT on a range of tasks.
Besides, Grammarly emphasizes that the solution will follow Grammarly's user-first approach to security and privacy to ensure users' data is safe and sound. GrammarlyGO will start rolling out to customers in beta in April. So, we're all anxious about this.
[Update]. Grammarly launched GrammarlyGo beta in April and claimed that it's based on Microsoft Azure gpt-35-turbo. This model was selected among the others after careful consideration of its security aspect, which aligns with Grammarly's security policy. As Grammarly's representative informs you, this tech choice is temporary as Grammarly keeps using top-notch tools as a ground for its products.
LanguageTool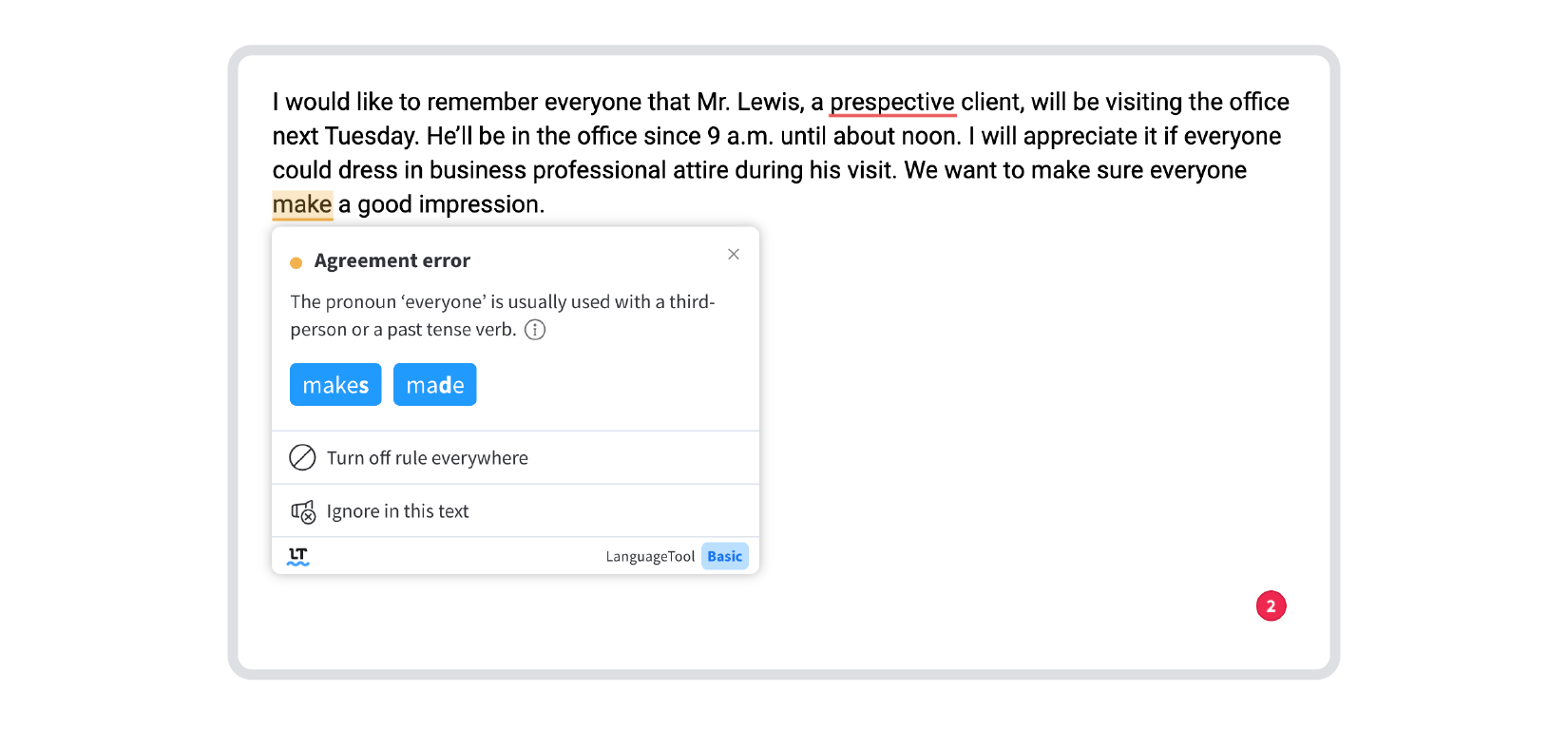 We've tested both versions of LanguageTool (free and premium), and the preliminary hypothesis was that results would be different. However, what we've seen is that LanguageTool has detected only two mistakes perspective and make. The rest is ignored.
Sapling AI

Now, Sapling AI. The checker claims that it can catch 60% more mistakes than Grammarly. Chances are that Grammarly is fed up with such comparisons 😀 But, nevertheless, let's test it. Well, almost all issues are corrected except for since. The thing is that Sapling AI doesn't have a separate color to differentiate types of mistakes. Not very comfy, though.

Also, after the test-drive, we asked ChatGPT whether it can generate a sloppy text itself. This is the answer:

Although ChatGPT-3.5 (a free version) appears to show an average result — our testing experience proves that ChatGPT-4 works much better.
ChatGPT is a multilingual spelling and grammar checker with average performance. Sometimes it works better than well-known solutions, such as Grammarly, LanguageTool or Sapling AI, but not always. A huge disadvantage is that it's an online tool with an unstable performance: when the workload is high, proofreading can make you grow old. And there's no as-you-type mode. To polish texts, users should submit them in the editor's mode. And no markup for underlying errors… yet explanations are detailed and informative. And obviously, you can't deploy it as an extension in every input area or text field.
What else? Putting aside performance, ChatGPT isn't so feature-rich. No autocorrect, autocomplete, dictionaries, customization options (languages/dialects, ignore options, etc.) All these bells and whistles are of a lot of help for individuals and teams. The latter also may seek team management options, user statistics, snippets and a style guide — things digital proofreaders offer under business packages. Devs will have to build a custom toolkit over ChatGPT.
And probably the most important thing — security. For now, there's no opportunity to install ChatGPT on-premises; it's an absolutely cloud-based solution. In its Privacy Policy, OpenAI mentions their practices of data storage and processing and states that users "use OpenAI service at their own risk". For security-conscious businesses, this approach may not be appropriate. This is another losing point for ChatGPT. Not for nothing, some giants have already barred the tool from their corporate systems. And Italy has become the first western country to ban ChatGPT for data-protection concerns.
A good thing is that ChatGPT is compatible with accessibility standards (at least, it says so). This is a kind of hassle for many spelling and grammar checkers.
WProofreader browser extension
Free for individual users and 14 days-trial for business users.
Explore more
WProofreader vs ChatGPT
WProofreader is a free multilingual sentence checker for individual users and teams, available for Chrome, Firefox and Microsoft Edge. The browser extension corrects spelling and grammar in your messages, docs, and emails and can be hosted on-site, in a private cloud or in the shared cloud. 
Key features include multi-language support, spelling autocorrect and autocomplete suggestions, company-wide and user custom dictionaries, advanced security, accessibility, customization, etc.
Let's compare ChatGPT and WProofreader capabilities.
| | | |
| --- | --- | --- |
| Feature | WProofreader | ChatGPT |
| Multilingual support | 20+ languages, incl. AI for English, German and Spanish. Language auto-detect feature. | 90+ languages |
| Data security | Cloud and On-premise versions | Cloud |
| Integrations | As a browser extension — works with online business tools. As a part of SDK — embeds in RTEs and custom systems | Available as an online AI model accessible through a web-based interface. Can be deployed via API or SDK |
| Advanced writing features | Spelling autocorrect and autocomplete suggestions; custom rules (offensive and profanity language) | Available only within applications and devices who have these features and can work with ChatGPT terminology. Paraphrasing. |
| Dictionaries | Company-wide and custom user dictionaries | No |
| Features for teams | Style guide with custom grammar rules | No |
| Customization options | Language settings, ignore options, UI personalization | No |
| Accessibility | Yes | Yes |
| Dev version | WProofreader SDK and standalone HTTP API | API and SDK |
ChatGPT vs WProofreader capabilities
A few words before you leave
So, the verdict.
Based on the plain example, ChatGPT can proofread and paraphrase well in many languages. Overall, the premium version ChatGPT-4 has a higher performance than a free one.
Can it now replace text checkers? We believe — no. ChatGPT has just emerged, and its primary function is to provide users with helpful and accurate information, as well as to assist with tasks such as language translation, text summarization, and more.
Sentence correctors are sophisticated solutions tailored for individuals, teams and developers based on their proofreading needs. One of the most important requirements for them is security, which ensures robust proofreading and storage of client data.
While text correctors are advancing in their job, ChatGPT may also evolve in this direction. For now, we see a chance to deploy its capabilities alongside more sophisticated solutions via API/ SDK for developers.