The European Health Literacy Survey has revealed low levels of the health literacy among the adult population in developed countries.
About half (47.6%) of the respondents from eight countries don't understand or can make use of everyday health information.
In the US this indicator was 36%, in England – 42%. All this is due to poor medical writing, vague sentences, spelling and grammar issues.
Although COVID-19 has forced doctors, pharma specialists and industry experts to move to the online realm, medical writing hasn't become clearer.
However, the situation is going to change soon. Industry regulators, in particular, European bodies, are calling companies and writers to use plain language for med summaries and statements.
Grammar checkers with built-in med spelling dictionaries are to become a great helper to an end.
COVID-19, telemedicine, and health writing
2020 and 2021 were the new era for telemedicine. In April 2020, the overall telemedicine usage for office visits and outpatient care was 78 times higher than in February 2020.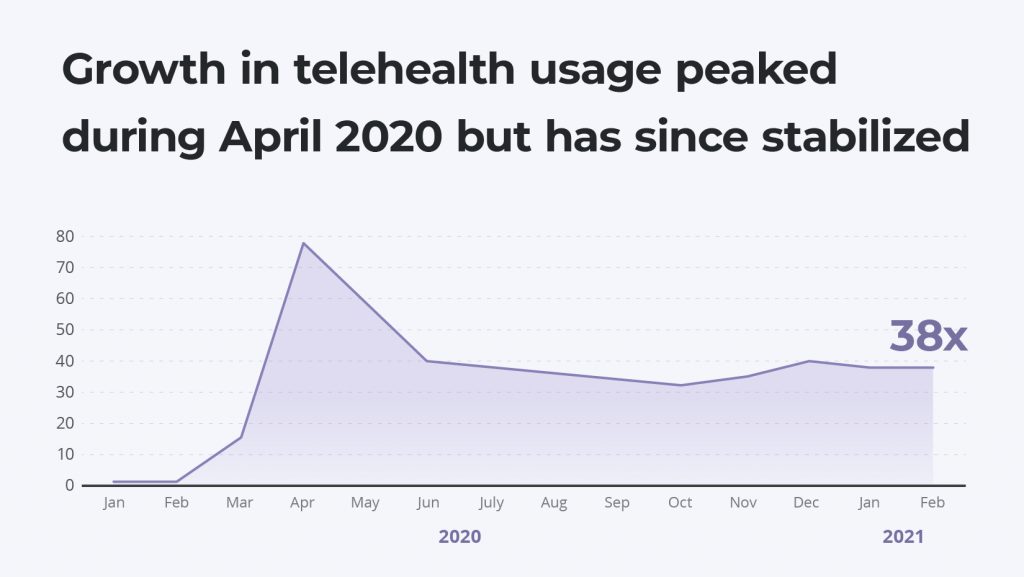 Reasons for this were the following:
Consumers and providers increased willingness to use telehealth
regulatory changes enabled greater access and reimbursement
investments in virtual care and digital health have skyrocketed more broadly, fuelling further innovation
virtual healthcare models and systems are actively developing,  moving from purely "virtual urgent care" to more advanced solutions, a combo of offline and remote personal care.
You may have noticed a crazy rise of telecare websites, mobile apps, and educational portals. The best-known e-health providers are Teladoc, Doctor on Demand, 4 Your Health.
McKinsey reports that the largest share of e-health services is for psychiatry, disorder treatment, and endocrinology.
Another trend aligning this mainstream is a substantial growth of educational platforms. They fill in the information gap in health-related issues, in particular COVID-19.
More and more individuals and companies from the med industry are starting blogs, accounts in social media, organizing webinars and online conferences.
In Twitter alone, from March 30 to 2020 to April 6, 2020, there appeared 41,329 posts on Twitter containing the words "COVID", "health", "care", "services", etc.
As a result, the e-health industry is skyrocketing. It's followed by a steady growth of the online med writing market.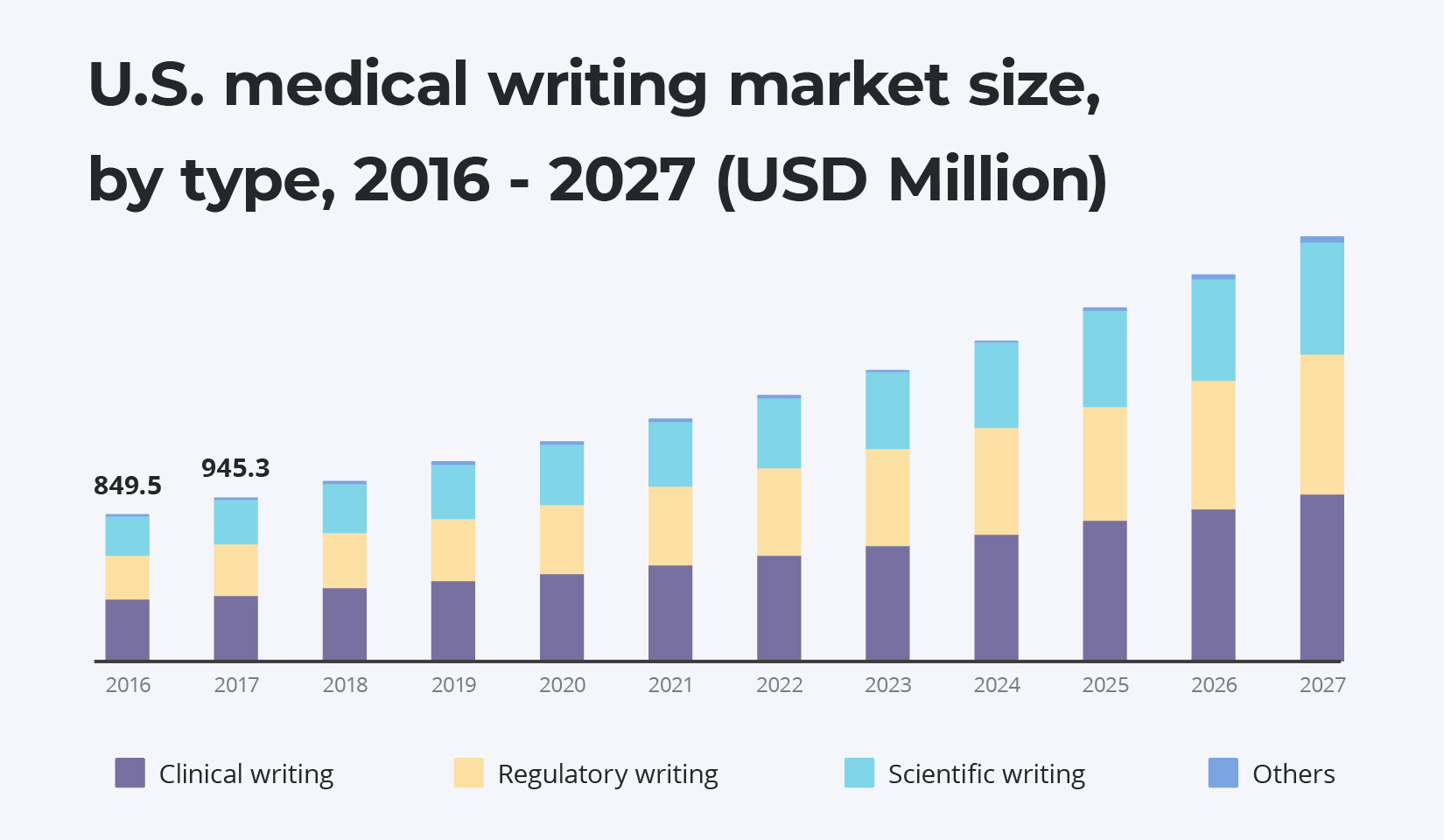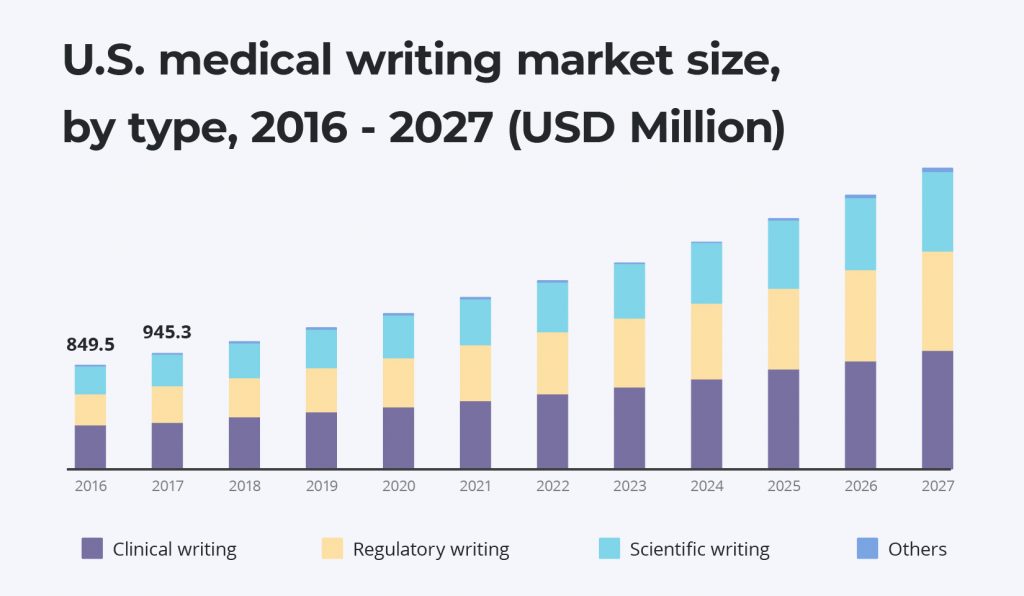 Combating the complex language of health writing
Medical writing involves creating well-structured scientific documents that include clinical research documents, content for healthcare websites, health magazines, journals and news.
There are two forms of med writing:
regulatory medical writing refers to clinical study protocols, clinical study reports, patient informed consent forms, investigator brochures and summary documents – docs regulators require in the approval process for drugs, devices and biologics;
educational health writing means preparing the same docs as for regulatory writing, but for the general audience.
The greatest challenges of health writing are:
medical writers lack the domain/niche expertise;
the complex language, advanced grammar structures, specialized medical vocabulary;
insufficient literacy level of medical writers;
the high cost of med editing services.
All this leads to incomprehensible clinical docs full of vague words, unnecessary jargon, abbreviations, and clichés.
A new standard of medical writing: clean, accurate and plain
To combat the bottlenecks of medical writing, supervisors issue guidelines and handbooks.
A Complete Good Lay Summary Practice (GLSP) handbook prepared by the European Commission is a great example of industry standards.
The key idea here is that those who are in a position to share information must ensure that they are communicating in ways so that even laymen (ordinary people) can understand the nuances of documentation.
Clear research summaries are to empower recipients to make sound research decisions and take action.
A lay summary is a brief summary of a research project or a research proposal that has been written for members of the public, rather than researchers or professionals. It should be written in plain English, avoid the use of jargon and explain any technical terms that have to be included – CDD.
Writing lay summaries as well as other types of medical docs is a complex deal. Automation of some processes may simplify some aspects, in particular, proofreading.
This is the moment when medical spelling checkers with embedded dictionaries are joining the game.
WProofreader extension with online spelling dictionaries
When doing research for this piece, we've come across several lists of must-have tools for medical writing.
In addition to online software for writing and formatting pieces, every med writer should use a medical spelling checker and dictionary.
And it's great if you find a 2-in-1 solution. A combo of an industry spellchecker and a specialized dictionary of medical terms.
The one like WProofreader browser extension for Chrome, Firefox and Microsoft Edge.
Let us introduce it to you.
WProofreader is a secure and feature-rich grammar check extension for individuals and businesses developed by the WebSpellChecker team.
One of its target audiences is healthcare businesses and pharmaceutical companies.
Medical dictionaries come in a bundle with WProofreader as a part of supported languages. They contain words related to anatomy, diseases, health care, generic and trademark drug names, and medical research. 
Available for four languages — English, French and Spanish language dialects.
What's more, companies and users can create their custom lists of words on any health-related theme.
Medical dictionaries WProofreader uses are based on commercial dictionaries, manually collected terms, healthcare dictionaries provided by our clientele.
WProofreader isn't the only solution over there. Trinka AI and PerfectTense also offer medical spelling.
Let's compare how these 3 grammar checkers work on one sentence:
Doctor cardioligict started a trombectomy operation at 9 am.
WProofreader demo (detects both grammar and spelling errors)
Trinka AI demo (detects only trombectomy)
PerfectTense demo (detects only spelling issues)
WProofreader seems to have coped with this task better than others checkers: both spelling issues are detected, as well as the grammar problem — missing article before doctor.
WProofreader features
High-level security both for cloud-based and server (on-premises) product versions
Grammar, spelling, punctuation check functionality
Multilingual support (over 20 languages and dialects)
AI engines with better accuracy for English, German and Spanish
Style guide with non-inclusive language check
Customization options, etc.
The list goes on, better try it yourself!
WProofreader browser extension
Free for individual users and 14 days-trial for business users.
Explore more
The takeaway
If you're searching for the ways to improve your medical writing, this article has got you covered.
Clinical research writing is very specific and to achieve certain objectives, it should meet industry standards for accuracy.
Medical research summaries and statements have to be clear, concise, and written in simple language with unified terminology.
And you can't go without external help unless you're an excellent writer and editor.
Grammar checkers with built-in medical dictionaries like WProofreader can be of much help in this case. They clean up medical documentation, unify the style, and facilitate the writing process.
Writing your next med article or doc? Try WProofreader, a handy browser medical spelling checker and grammar corrector.