Have you ever read public announcements and felt confused because of mistakes or knotty style? If yes, you're not alone. Official documents published by authorities seem to be developed just right to puzzle and mislead.
Spelling and grammar mistakes contribute to this problem. Inattentive copywriters hit even American presidents Barak Obama and Ronald Regan.
The good news is that regulators understand the problem and lobby for the use of the plain language for legal documents and gov documentation. The plain language has become the writing style, product and service, which, by the way, is pricey.
Meanwhile, proofreading agencies polish your writing for tidy sums, text checkers can do some part of the job at a lower cost. And with extra bells and whistles.
Discover why you need a spelling and grammar checker for government writing.
The plain language for government documentation, why not?
The plain language doctrine is young. President Clinton issued a memo on plain language in government writing in 1998.
Citing the president: "The Federal Government's writing must be in plain language. By using plain language, we send a clear message about what the Government is doing, what it requires, and what services it offers. Plain language saves the Government and the private sector time, effort, and money."
The approach refers to all new documents, other than regulations, e.g. letters, forms, notices, and instructions. Why did officials get bothered by the aspect of the plain language?
People have been lamenting legal documents' intelligibility and demanding to make them more transparent. This trend has been named the "plain language movement", which slowly spread across different countries and regions — the US, UK, Canada, EU, Australia, etc.
In the UK, the movement started even earlier. In 1979, Chrissie Maher OBE publicly shredded hundreds of official documents in Parliament Square, London, which forced thousands of organizations across the UK to shift to a more straightforward language style.
In 2014, the Government Digital Service announced clear guidelines for writing in plain English on government web pages. Accessible language is one of the factors encouraging citizens' participation in the democratic process.
Clear writing for Europe is a drive within the European Commission (EU) to help everyone in the Commission to write shorter, simpler, jargon-free texts.
The EU issued the guideline on How to write clearly. Plain language for the EU is a chance to exchange ideas for ways to communicate more clearly in government writing with the citizens of Europe, to share experiences and learn about the EU institutions' work in this area.
So, plain language is steadily replacing old-fashioned approaches to government writing. It's based on several pillars: clarity, reader-friendliness, accurateness, and certainty. And this is where public entities may need help. 
WProofreader browser extension
Free for individual users and 14 days-trial for business users.
Explore more
Spelling and grammar checkers to polish government documents
Communication consultants and agencies such as Shorewalker DMS, Hourigan and Co, and Clear Edit fulfill government editing needs and offer a range of services:
Proofreading — correcting basic errors (spelling, grammar, punctuation, consistency)
Copy editing — converting copy to improve language and conform to style, including plain English editing
Formatting — modifying the layout to enhance the appearance of a document
Substantive editing — modifying the overall structure and content to improve readability.
Just like editing, the pricing offered by such agencies is also substantive. For example, the Editing Centre charges $389 for a document of 10,000 words for urgent proofreading within 48 h and $200 for a non-urgent result.
Apparently, a human proofreader is a more knowledgeable specialist than automated solutions. They can provide advanced services like substantive editing. But, digital solutions work with more or less the same effectiveness; they aren't biased, they are customizable, and way cheaper.
At least for the first two stages of the process: proofreading and copy editing.
Not all are designed for government proofreading. Grammarly, Trinka AI, and ProWritingAid provide dedicated spell and grammar checking services for governmental bodies and organizations.
Let's check how these solutions cope with a piece of legal text with spelling, grammar, and punctuation errors.
The original text is about upcoming parliament elections in the USA.
The 2022 election will be the first to take place following apportionment and redistricting after the 2020 census. As a result of apportionment, six states (Texas, Colorado, Florida, Montana, North Carolina, and Oregon) gained seats in the U.S. House, and seven states (California, Illinois, Michigan, New York, Ohio, Pennsylvania, and West Virginia) lost seats.
The exact text with mistakes.
2022 election will be first to take place following aportionment and redistricting after the 2020 census. As a result of apportionment six states (Texas, Colorado, Florida, Mantana, North Carolina and Oregon) gained seats in the U.S. House, and seven states (California, Ilinois, Michigan, New York, Ohio, Pensylvania and West Virginia) lost seats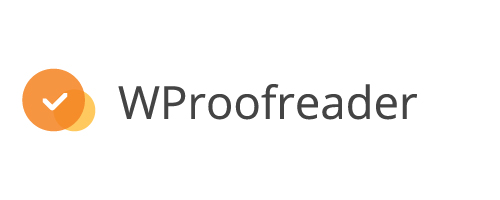 So, WProofreader with enabled English AI has detected all spelling and grammar mistakes except for the Oxford comma. Oxford comma rule can be enabled by default per the user's request.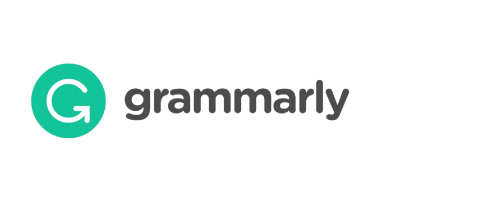 Grammarly (free version) doesn't detect a missing comma in a part "as a result of appointment", and a spelling issue in "Ilinois". The checker doesn't notice a missing Oxford comma, which may be crucial for governmental and legal documentation. Although Grammarly states in its blog that the solution is pro-Oxford, the checker doesn't detect Oxford comma cases and provide suggestions in its free version.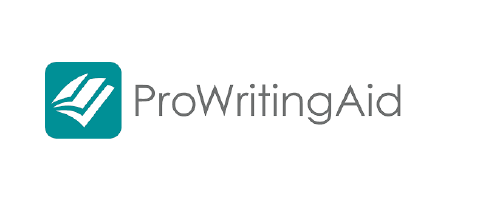 Like WProofreader and Grammarly, ProWritingAid free doesn't detect a missing Oxford comma. Another issue — ProWritingAid doesn't see a missing article "the". Other cases are true positives with relevant suggestions.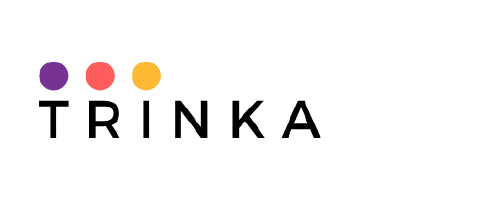 Trinka AI rightly detects grammar issues: missing articles and commas. However, the solution doesn't see obvious spelling issues in the words Mantana, Ilinois, Pensylvania. Also, the checker doesn't offer adding an Oxford comma. But what's interesting is that Trinka AI suggests style improvements. For example, the solution doesn't fancy take place and suggests replacing it with occur. As a result is advised to be replaced with because of. Style improvement feature is included into the free package of Trinka AI.

What about the overall style of the text? At first sight, it's clear that the second sentence is long and complex. Does any of the above solutions suggest style improvements according to plain language standards?
WProofreader, Grammarly, and ProWritingAid don't offer a paraphrasing feature. Trinka AI offers slight style improvements.
There are dedicated paraphrasing tools like Outwrite or QuillBot. The paraphrasing feature is premium in the Outwrite, unlike QuillBot, which helps you restructure sentences for free. Here's the result of text improvements in the QuillBot.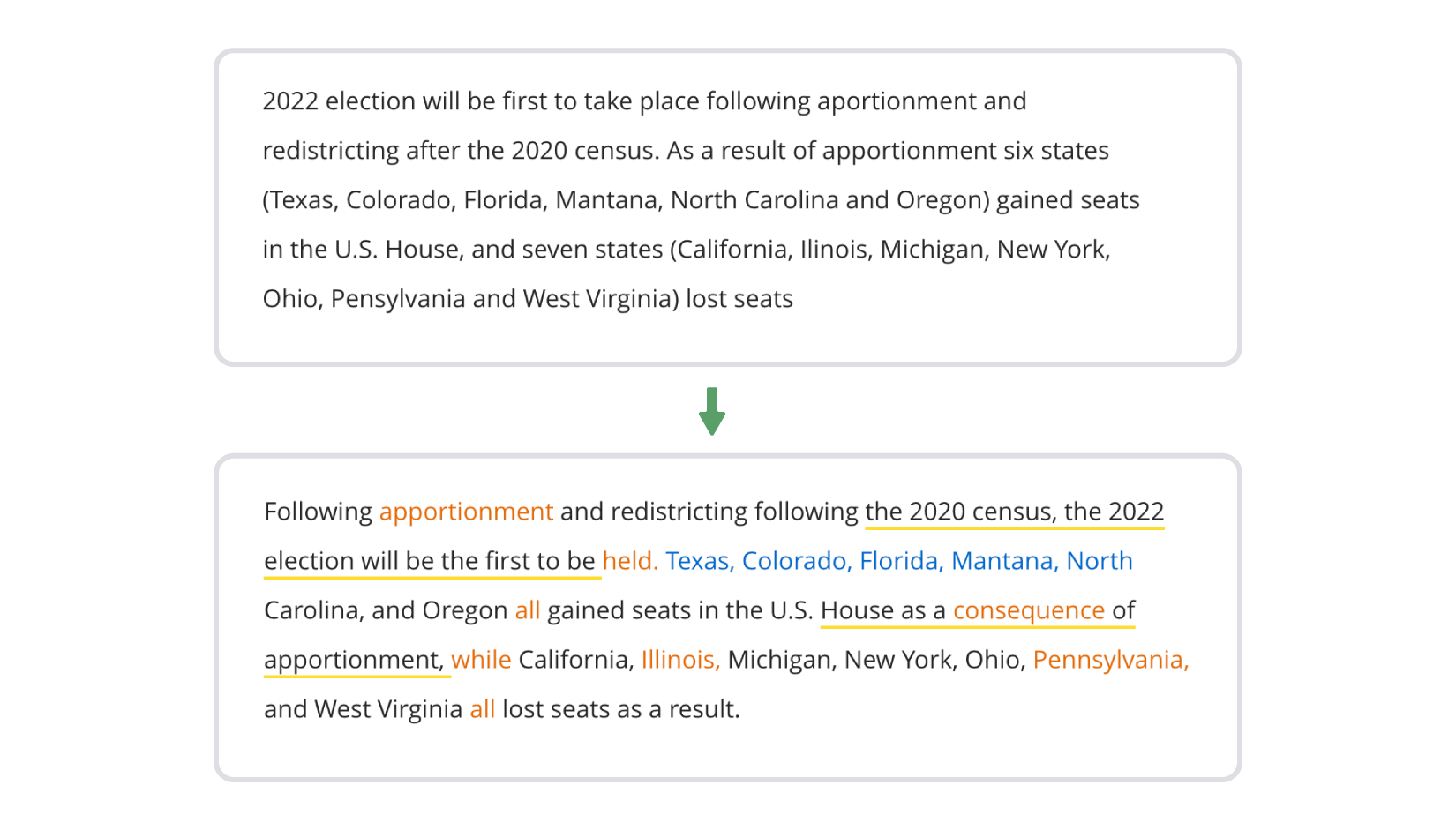 Not bad, by the way. The text has become more apparent, readable, and user-friendlier. Paraphrasing/restructuring features can be helpful while copy editing or substantive editing. Currently, the WProofreader extension doesn't offer this feature; however, it's in our product roadmap and will come live soon.
WProofreader — a secure and robust text checker for government writing
WProofreader extension is a WebSpellChecker product based on the same core as the rest of our solutions: WProofreader SDK, WProofreader for WordPress, SCAYT plugin for CKEditor 4.
The extension is a secure and feature-rich solution inside your browser Chrome, Firefox, or Microsoft Edge. What do we mean under "robust"?
First, user data in transit is encrypted with TLS protocol.
Second, the extension can be deployed and configured on-premise, which is crucial for security-conscious businesses, in particularly governmental organizations.
Third, WProofreader is GDPR-compliant and helps businesses to meet HIPAA standards.
The GDPR draws particular attention to protecting personal data in the public sector. Government agencies that process personal data must appoint a Data Protection Officer (DPO). This is different in the private sector, where a DPO is only required when specific criteria are met.
Another vital feature of the extension is accessibility. We've designed the solution to be accessible for all types of users, without exception. It's equipped with keyboard navigation. Users with limited abilities can proofread, switch between the modes, tweak settings, and complete other tasks using keyboard shortcuts only.
Since public sector websites or mobile apps should follow accessibility standards by default, WProofreader can be a perfect match.
Not every text checker is compliant with WCAG 2 and section 508 standards. What else can the extension do?
multilingual spelling correction and grammar check (20+ languages)
AI-driven English, German, and Spanish for higher proofreading quality
automatic language detection — proofreading combo docs is handier than ever
autocomplete suggestions for faster writing
company-wide and user dictionaries
customization options
So, we're not biased at all. We don't scream about the advantages of WProofreader on every corner.
The choice and testimonials from our clients prove the power of our products at most.
Among the public sector, we serve federal agencies, governmental departments, space exploration offices, technology service providers and agencies, etc.
On a side note
In a nutshell, the public sector demands professional government writing services more than ever before. The plain language doctrine saying that public writing should be clear and user-friendly has completely changed the approach to proofreading.
At the basic level, public docs should be checked for spelling, grammar, and punctuation errors. At the advanced levels — improved to meet the plain language standards.
Secure and powerful text checkers can do the first part of the job at a lower cost than specialized agencies.
Human specialists come to the stage when it comes to copy and substantive editing. However, with the advances in proofreading solutions, rephrasing/restructuring features can do even more complex tasks than pure text checkers.
WProofreader is suitable for the public sector. AI-driven multilingual proofreading, on-premise deployment, accessibility and other features can help governments to check writing without turning to third-party agencies.