Bonjour chers lecteurs!
Although French isn't in the list of "blow my mind" languages, it's still complicated to digest compared to other lingoes, in particular English.
Just look at those homophonic traps, accent nuances, and conjugation problems. Oh, gosh.
However, now there are more than 274M people speaking French worldwide. French occupies the fifth place of honor after Spanish, Hindi, Chinese (Mandarin), and English.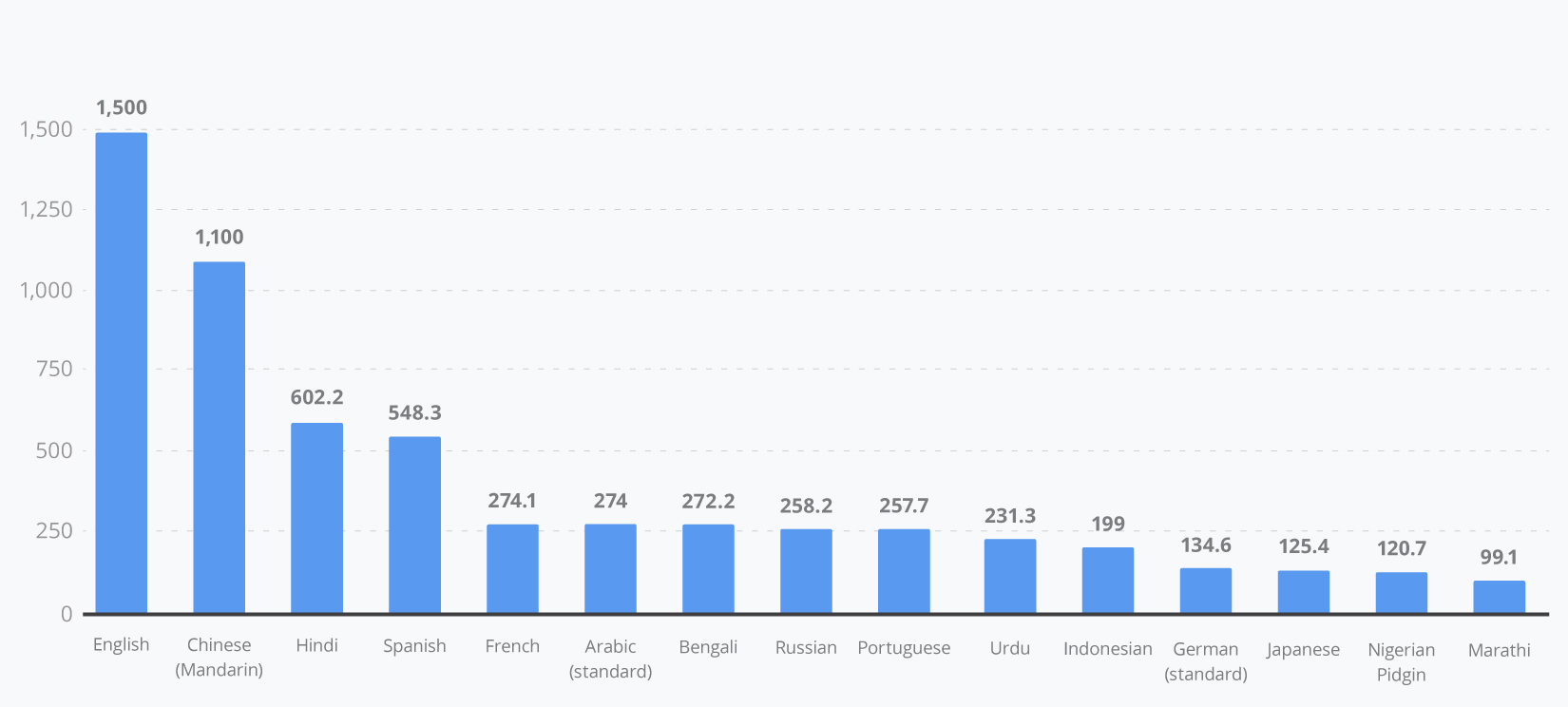 When it comes to spoken word, errors may not be so critical, but reports, presentations and emails plein d'erreurs are a reason to wonder. Especially for non-native speakers.
Of course, you may surround yourself with spelling dictionaries and grammar tables, but it's more comfy to have all this in one place — in an online French grammar corrector.
Today we're testing popular correcteur français en ligne and selecting the best one. Spoiler: there's no actual winner, though 🤗

Comparing French text checkers on a set of common mistakes
This post isn't another top list of "best French orthography correctors", okay, maybe it's similar to other articles on this topic, but it is more grounded.
We took a bunch of typical spelling and grammar issues and checked the performance of French digital proofreading solutions on this rundown.
So, what spelling issues do Francophones usually have? In general, spelling issues spin around homonyms and homophones, accents, and silent letters.
What about grammar? Although French is believed to be a very logical language, speakers tend to break grammar patterns:
être instead of avoir;
the adjective order;
possessive articles and reflexive pronouns;
c'est/il est;
tu imperative;
c'est/s'est;
ma/mon;
the verb 'manquer'.
For comparison, we selected the most popular and recommended solutions: LanguageTool, Sapling AI, MerciApp, Outwrite, Druide Antidote. Also, we added our product — WProofreader based on the text checking engine we've been developing and upgrading for more than 20 years.

And to make the picture fuller, we included Chrome native text checker in the sampling. Just because millions of billions rely only on browser text checkers, why bother yourself with buying a premium extension?
Besides, during investigation, we set our eyes on the user experience each text checker provides.
At the end of the day, no matter how robust and powerful the solution is, first and foremost, it is a tool. And it does matter how handy and intuitive it actually is.
We promise not to be biased and claim that our WProofreader is the best-of-the-class (okay, it still may be 😏). By and large, the real truth is always somewhere in between.
WProofreader

WProofreader is a secure text checker developed by WebSpellChecker. Available for modern versions of Chrome, Firefox, and Microsoft Editor under cloud (SaaS) and on-premise licensing options.
WProofreader is a truly multilingual solution, it supports over 20 languages including French. Besides, it comes with AI models for English, German and Spanish.
Key features:
spelling and grammar in two modes: as-you-type and in-dialog (all issues and suggestions are aggregated in a pop-up)
custom user dictionaries.
WProofreader is also available as an SDK for engineers and dev companies to build bespoke web apps and solutions.
It won't be fair if we sing the praises of WProofreader user interface, we'd rather suggest that you test it and share your feedback. There's always room for improvement.
LanguageTool

LanguageTool is one of the most popular free correcteur français en ligne. LanguageTool is open-source and has many integrations for browsers, software and online, and desktop product versions. LanguageTool covers English, Spanish, French and 20 other languages.
Among advanced features, LanguageTool offers:
online writing correction;
personal dictionaries;
advanced style and typography;
security data processing.
What we like about LanguageTool UI is that it offers both, the as-you-type and in-dialog proofreading modes, it has a handy user page and online editor. The onboarding process is pretty easy.
However, users may lack the proofreading statistics feature, which is common for other text checkers.
Sapling AI

Sapling AI calls its product as an "AI writing assistant" for business communication that can be integrated with a number of online business tools. The product is based on a bespoke AI engine and has many nice-to-have features such as autocomplete, snippets, and autosuggest.
The company behind Sapling AI claims that the solution detects 60% more grammatical errors and spelling issues than competitors. Who knows? Sapling AI supports Chinese, English, German, Spanish, Italian, Portuguese, and French.
We've already checked how well Sapling AI English, German, and Spanish does. It's high time to test-drive its French edition.
Sapling AI UI advantages: online editor available from the personal dashboard, stats and reporting feature, a help menu built in the personal user area.
Disadvantages: no in-dialog mode (for some users, it's critical), fewer customization options compared to other solutions.
MerciApp
MerciApp is a specifically correcteur d'orthographe et de grammairer based on the "unique correction and writing assistance technology" that is safe and easy-to-use — this is how MerciApp presents its product portfolio.
MerciApp comes as an online editor, browser extension, office add-ins and Google add-ons. The product engine is based on the results of linguistic research and engineering and covers 715K word forms, 1.5M word combinations, 200K typographic rules — to name a few of the proofreading requisites.
You can use the free online editor or request a 30-day free trial to see the MerciApp extension in action.
What can we say about MerciApp UI? Well, the onboarding process and user page are pretty intuitive, although, there's no localization except for French.
UI pros: intuitive menu, detailed rule explanations in the suggestion menu, online editor, user page with plenty of customization options.
UI cons: no in-dialog mode, an embarrassing behavior of the online editor. After another page refreshment, the checker gives different results.
Outwrite

Outwrite (formerly GradeProof) is another multilingual text checker correcting spelling, grammar, and style in users' texts. The extension is free and available for individuals.
What sets apart Outwrite from the rest is its paraphrasing feature, however, it's limited in the free product version. Style suggestions, passive voice detection, and multilingual support are among advanced features offered in the premium package.
Compared to other solutions, Outwrite has a handy extension pop-up, and a live tour during user onboarding. It would be nice if Outwrite has an in-dialog mode and more customization options, but for now it doesn't.
Druide Antidote

The last, but not the least, in our chart — Druide Antidote. Frankly, it's one of the most popular French speller and grammar checker. Every second top list includes Druide Antidote.
The company has developed several solutions for individuals, families, and companies — Antidote 11, Antidote Web, and Antidote Mobile. There's no free extension available, however, you can also get a 30-day trial and see what Druide Antidote is really worth.
Antidote is bilingual, it corrects mistakes in English and French texts. It has pretty detailed explanations of French rules, detects grammar, punctuation and style issues as well as spelling.
Druide Antidote is, probably, the most complicated solution 😵‍💫 in terms of the UI. The puzzling installation and onboarding, no as-you-type mode for the extension. But what's great about Druide Antidote is that the personal dashboard is full of features, users can proofread in the online editor, detailed rule explanation in the side panel, and advanced settings.
Chrome spelling & grammar checker

Google provides spelling and grammar suggestions in Gmail and Google Docs in English, Spanish, French, Portuguese, and Italian.
Users can accept and ignore suggestions, add words to the dictionary, and use handy autocorrect and autocomplete features. No special efforts for installation and configuration. The toolkit as well as the UI is pretty basic, but it's enough for personal usage.
Is there the best French grammar corrector?
We've done a performance comparison of the above correcteur d'orthographe et de grammaire on two samplings of grammar and spelling issues.
Sampling #1. A random list of 60 sentences (30 with grammar and 30 with spelling issues) derived from the LanguageTool sentence database.
Sampling #2. A list of sentences with commonly made grammar and spelling mistakes based on the linguists' insights and French tutors' recommendations.
The result describes the percent of issues detected by a text checker. It's worth mentioning that some text checkers give false negative/false positive and irrelevant suggestions. We didn't take into account these criteria this time, we kept them for deeper investigation.
The results are as follows.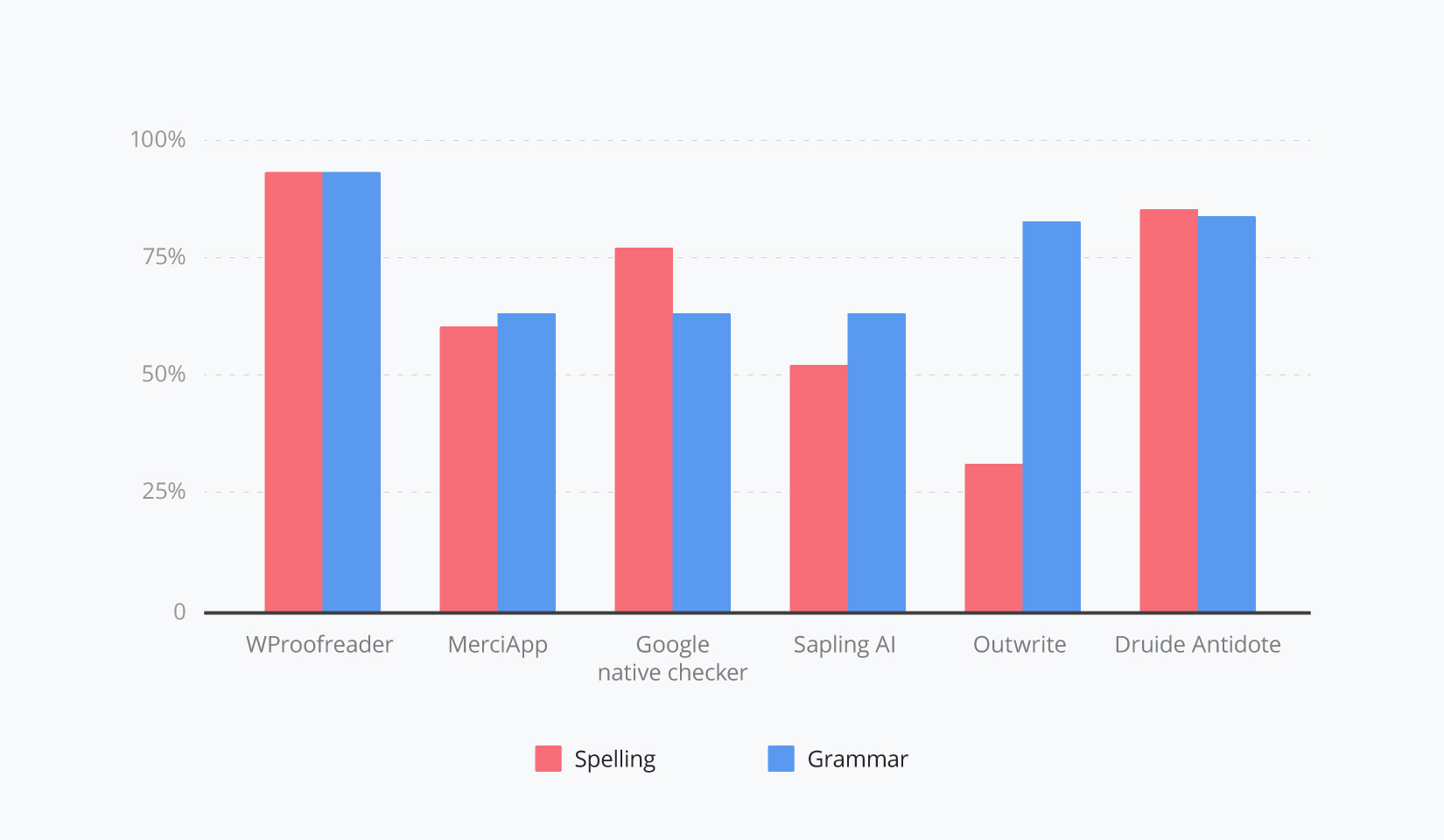 Long story short, WProofreader and Druide Antidote seem to cope better with grammar and spelling mistakes from the LanguageTool rules list than other text checkers. MerciApp and Sapling AI detects 50-70% of all issues. Outwrite recognizes about 25% of spelling errors and more than 75% of grammar ones. Google native checker also performs at an average level.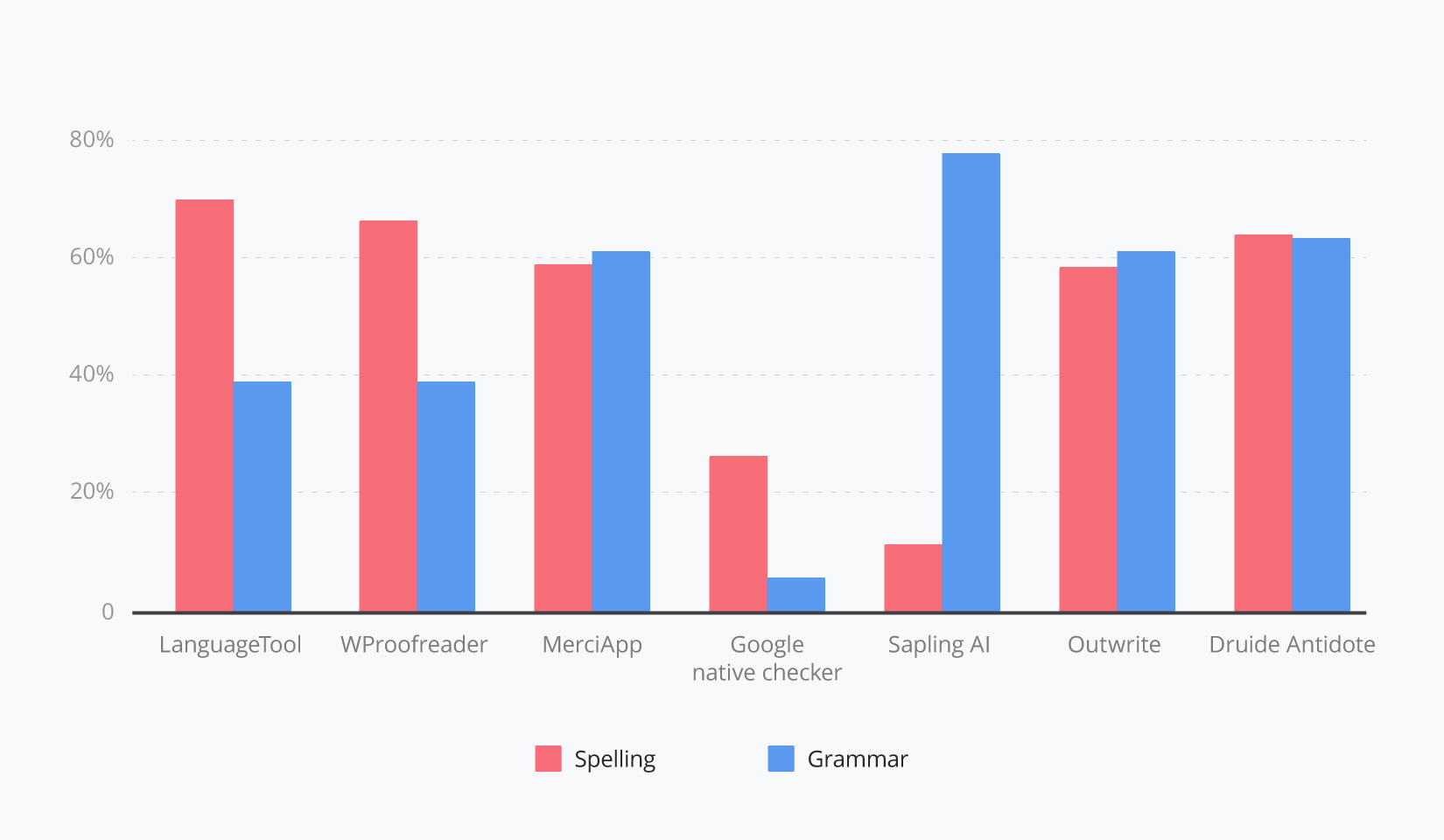 When it comes to real-case typical spelling mistakes, almost all text checkers perform well, except for Sapling AI and Google native checker. However, Sapling AI obviously recognizes more grammar issues than alternative solutions. Outwrite and Antidote finds 60-75% of all issues. LanguageTool and WProofreader have similar performance results: 60-65% for all spelling mistakes, 40-60% — for all grammar errors. MerciApp, on average, recognizes about 60% of issues of both types.
WProofreader browser extension
Free for individual users and 14 days-trial for business users.
Explore more
Summary
So, if you've scrolled through the post without reading it, here's a short summary:
Adding French to a language coverage list may be a pain in the butt neck for any proofreading service provider. There's a free option — LanguageTool open-source engine and Hunspell dictionaries, but, in this case, the performance won't be outstanding as many French grammar checkers have traditional dictionary-based engines. Another option is a custom AI model (e.g. the one Sapling AI has). But! There are very few open-source French datasets to build your model on. Certainly, you can do your own research and create a custom dataset, but note that it's super pricey and sometimes just irrational. AI text checkers may provide irrelevant results different from traditional rules and patterns.
Based on our quick research, there's no obvious winner in the "best-of-the-class contest". Certainly, testing solutions by the percent of detected errors isn't enough, but it's feasible for individual users and companies without linguistic departments. For deeper investigation, we advise taking into account the percent of false positive/negative cases and the relevancy of suggestions provided.
During the test-drive, catch yourself on your feelings and emotions. Is this tool handy, or does it require tons of effort to install, configure and use? The majority of French grammar checkers have three proofreading modes: as-you-type, in-dialog, and online editor. Users can configure personal and proofreading settings in their accounts.
Besides, when selecting a digital proofreader it's important to test its performance on real cases, analyze all the criteria, and finally… opt for WProofreader 😇.